If you'd like information about availability and pricing of Skihaus or Stemhaus accommodation, please call Mary Trillo at (705) 445-6843.
Getting to Collingwood & Blue
Collingwood and Blue Mountain are an easy - snow squalls excepted - 2-hour drive from most parts of Toronto. If you are coming to Blue for the first time, from Toronto or elsewhere, Blue Mountain's website has useful, straightforward directions.
Once you reach Blue Mountain
Skihaus & Stemhaus are located across from the Blue Mountain Inn, so if you find that you should be fine. Once you find that, look for the skier on Stemhaus' chimney (upper left corner of this page). If you still can't find the place, here's a map: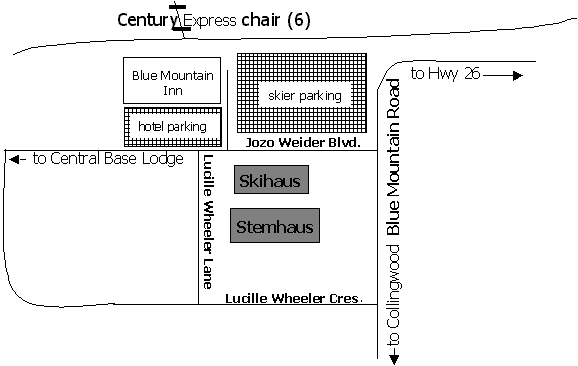 HOME - SKIHAUS - STEMHAUS - WINTER - SUMMER - SKI/HIKE/BIKE - HISTORY - FINDING US - LINKS